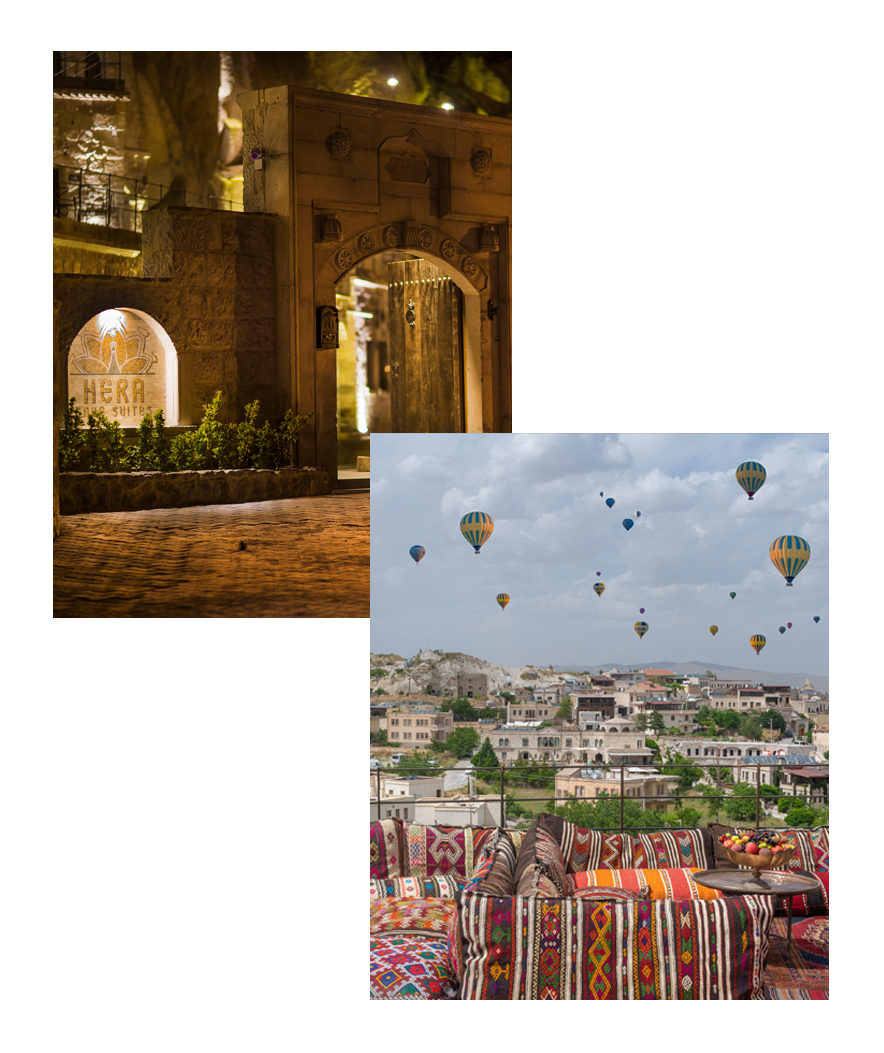 Hera Cave Suites – An Unforgettable Experience A lodge no other.
Live the holidays of a lifetime in ultimate private getaways in Cappadocia Göreme.
A labyrinth of narrow passageways and curved Stone stairways lead tounique rooms tastefully decorated in warm traditional style. Terraced above the village of 'Goreme', our beautiful hotel offers the modern traveler a unique cave hotel experience. Relax & enjoy breathtaking views from our many stone terraces. In the early morning sunrise, marvel at the sight of hot air balloons filling the sky or enjoy the panoramic view overlooking the village in the background.
These exceptional cave houses are renovated and decorated with care and in their own district style with strictly respecting the local character. The decor is elegant and personalized with beautiful hand-crafted furnishing and antiques.
The hotel is a visual delight…each room, corner and terrace is tastefully decorated with simple artifacts showing the unique history of the area. With 28 Cave Rooms, we offer three types of accommodations: Cave Rooms, Deluxe Caves, Suite Caves and King Suite Caves. Built over the ancient cave dwellings used for centuries by locals, all the original cave walls have been preserved and integrated harmoniously into the room designs.
Our open buffet breakfast offers a full buffet with more than 40 homemade local dishes and items. The jams, locally-made Pekmez, (pressed grapes), fresh bread, a variety of local cheese, fresh organic fruits and many other treats can be enjoyed on our terrace or in the charming breakfast room.Location
The Hera Cave Suites are located in the old part of Goreme, less than a five minute walk from the town center.
Are there flights to Cappadocia?
Yes. You can either fly to Kayseri (75km to Goreme) or Nevsehir (42km to Goreme). There are eight direct flights to Kayseri and four flights to Nevsehir every day, operated by Turkish Airlines. Pegasus Airlines also flies everyday to Kayseri, but their flights come from Sabiha Gokcen airport which is located on the Asian side of Istanbul (about 1 hour and 30 mins drive from Sultanahmet).
Transfer Service from or to the Airport:
We can arrange your airport transfer. For using our transfer service please send us your flight number and arrival time as written on your flight ticket via e-mail: info@heracavesuites.com One of our staff will be get you in touch to inform you about your transfer process.
How to come to Cappadocia by bus:
There are buses from all the major cities of Turkey to Goreme or Nevsehir. Be sure to buy your ticket to Goreme, not Nevsehir!!!. Some travel agencies in Nevsehir bus station will claim that they will transfer you to Goreme free, but they will hassle you to purchase tours and leave you there if you don't buy one. Major companies like 'Metro and Nevsehir Seyahat' will have service buses from Nevsehir to the Goreme bus station. We pick our guests up from the bus station in Goreme for free of charge. Please give us a call from the information office in the Goreme bus station. Even though the officers know our number, for your records, our phone in international format is +90 384 271 3038 or WhatsApp call +90 537 598 69 90 We will come and pick you up in less than 15 minutes and drive to hotel.
The distance of Hera Cave Suites from/to the most outstanding historical sites in Cappadocia;
We are 200 meters from the center of Göreme.
• Uchisar Castle 6 km,
• Göreme Open Air Museum 1.5 km,
• Paşabağ and Zelve Open Air Museum 6 km,
• Devrent valley is 7 km,
• Avanos 11 km,
• 13 km from Ürgüp,
• Kaymaklı Underground City 25 km,
• Ihlara Valley is 90 km.

The distances to the airports are;
• Cappadocia airport: 40 km,
• Kayseri Airport: 70 km away.
There is a transfer service for all domestic flights (Kayseri and Nevşehir Airports) arriving / departing from Cappadocia. Since the drivers cannot accept passengers who are not on their lists, you must make a reservation in advance for the transfer.