Turkish Night Show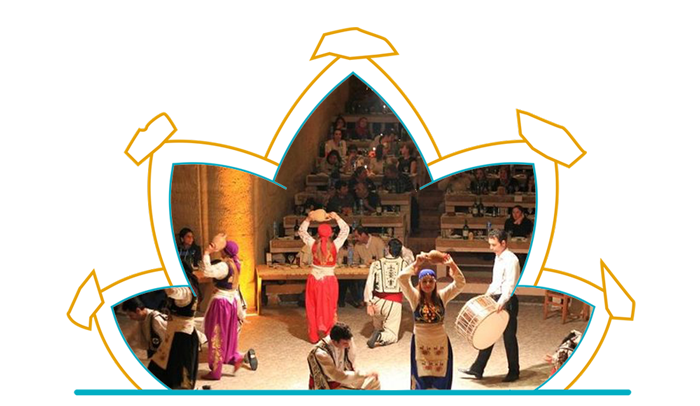 Cappadocia is the first place that comes to mind when we say more than holiday. No matter which season or how many times you visit this place you cannot get enough of it.
Cappadocia is famous for not only its fairy chimneys, nature and history but also Turkish Night. The gorgeous scenery of its unique geography in the morning turns into a dance show that belongs to our culture. Your holiday will be 'unforgettable' if you go the Cappadocia Turkish night show in addition to what you saw and lived.
Cappadocia Turkish Night is a show that being organized for years to entertain and to introduce our culture to foreign and local tourists. If you wish you can participate in this show with delicious food of the region or just by watching it. In this show you will watch fantastic belly dancers, folk dance which belongs to different regions and special surprises from the organization company. Since Turkish night show is performed in stone carved places, it creates a special atmosphere.
Generally, Cappadocia Turkish night show is organized in Avanos and Uçhisar and it takes about 3 or 4 hours. The night begins after serving your dinner in old stone houses or the stone carved places called caves. Among dance shows, you will enjoy watching some traditional shows which is really important for Turkish culture, such as asking for a girl from her family before the marriage and taking her from her home as a bride. When we say Cappadocia Turkish night the oriental dance show is the first thing that comes to mind. Even if the belly dancers come from Arabian culture, they became an important part of our culture. The belly dance part may be the most fun part for you in this show and you will want to join the dance. Trying to dance with belly dancers amateurly is the funniest part of this show for people who sit on the table or not have fun moments.
It is not important whether you have a good voice or not, you will accompany the beautiful Turkish songs in this night. After Caucasian dance show which is the final show of Cappadocia Turkish night you will dance with other participants with music for closing the night. Cappadocia Turkish night show is organized generally for big tourist groups in a restaurant which is enough for 200 to 1000 person. However even if you go with your family, you can get involved easily and you can choose one of the meal packages included or not. You should make a reservation before you go because there are just a few places that organize this night show. Another important point is to arrange your hotel transfer services for the night show and you can contact us for this.
Regardless of the season, you can attend this activity winter or summer night. Cappadocia Turkish night begins at 8 pm and ends at around 11 pm in winter, it begins at 8.30 pm and runs until 12 am in summer. When you choose the dinner included packages, they serve a fix menu for you. Dinner menus depends on the restaurants you go, but generally it has a menu that includes homemade wine, appetizer, snack and at least 2 types of main meal, salad, fruit or dessert. Alcohols other than wine may be an extra for menu price. Therefore, you should ask whether beverages are limited or unlimited. The main meal consists of different tastes from the local cuisine. When you choose a menu without meals, they serve fruit, snacks or Turkish delight with alcoholic or non-alcoholic drinks but in some restaurants, they can add several appetizers. Beverages are limited or unlimited depending on the package.
For further details and reservation, please contact us.