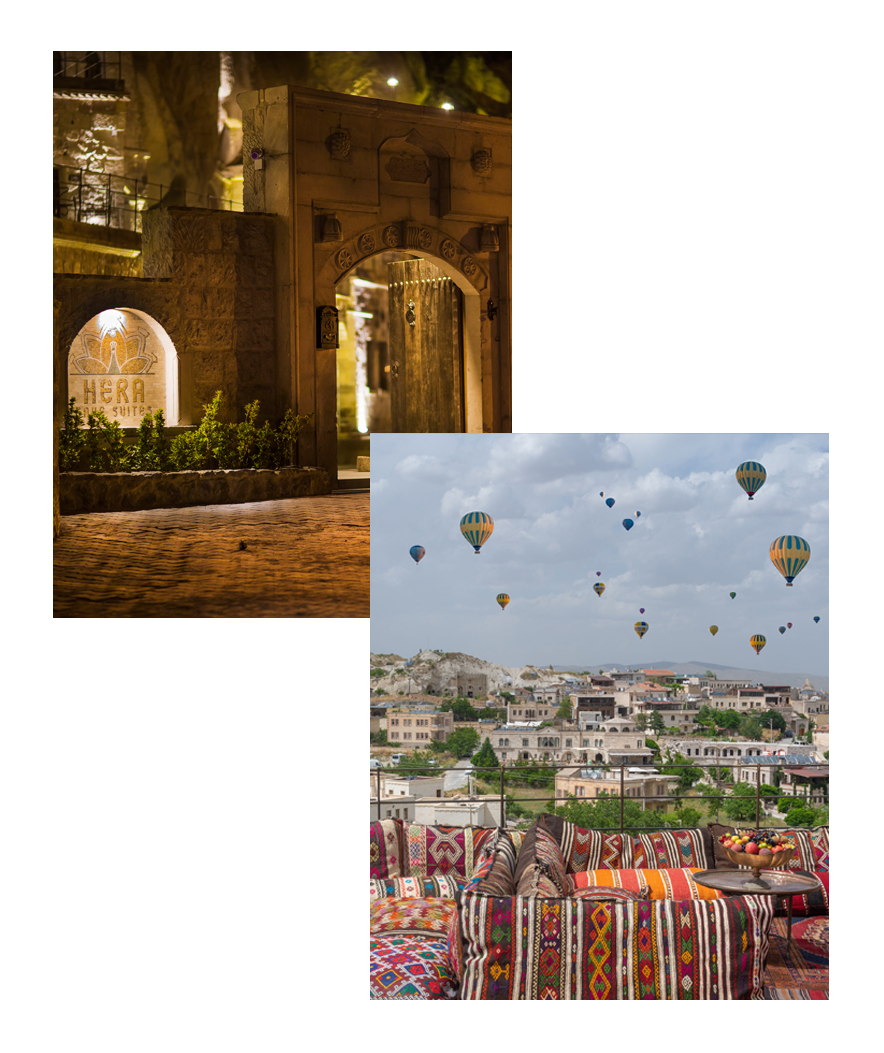 Hera Cave Suites – An Unforgettable Experience, A Lodge No Other

Live the holidays of a lifetime in ultimate private getaways in Cappadocia, Göreme.
A labyrinth of narrow passageways and curved stone stairways lead to unique rooms that are tastefully decorated in warm traditional style. Terraced above the village of 'Goreme', our beautiful hotel offers the modern travelers a unique cave hotel experience. Relax & enjoy breathtaking views from our many stone terraces. Early in the morning during the sunrise, marvel at the sight of hot air balloons filling the sky or enjoy the panoramic view overlooking the village in the background.

These exceptional cave houses are renovated and decorated with care and in their own district style with strictly respecting the local character. The decor is elegant and personalized with beautiful hand-crafted furnishing and antiques.

The hotel is a visual delight… Each room, corner and terrace are tastefully decorated with simple artifacts showing the unique history of the area. With 28 Cave Rooms, we offer 4 types of accommodations: Standard Cave Rooms, Deluxe Cave Rooms, Cave Suites and King-Family Cave Suite. Built over the ancient cave dwellings used for centuries by locals, all the original cave walls have been preserved and integrated harmoniously into the room designs.

Our open buffet breakfast offers a full buffet with more than 40 homemade local dishes and items. The jams, locally-made Pekmez (pressed grapes), fresh bread, a variety of local cheese, fresh organic fruits and many other treats can be enjoyed in the charming breakfast room.