Ihlara Valley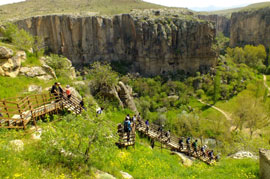 Ihlara Valley is not only a natural beauty, but also a rocky settlement area that hosted an extreme monastery life between 4th to 13th centuries D.C. and housed more than four thousand dwellings and a hundred hidden cave churches decorated with frescoes and houses lining the gorge.
Ihlara Valley, near Mount Hasan and Mount Melendiz (two of the three volcanoes of Cappadocia) is a canyon with a depth of approximately 100m and was formed by the Melendiz River thousands of years ago. It begins at Ihlara village and ends with Selime Monastery at Selime village after making 26 bends along 14 kilometers.
There are 4 entrances to Ihlara valley. The first one is at the start of the valley in Ihlara Village. The second one opens to the 4th kilometer of the valley and it is the most popular entrance, and has more than 300 steps down to the valley. The third entrance is Belisirma village which allows you to enter the valley by driving. It is located in the middle (7th km) of the valley. If you will visit the valley by your car, this is the best spot to park your car. Belisirma has also some restaurants by Melendiz River to have lunch. Most of the guided tours end their walking here after lunch. The last entrance is the end of the valley at the Selime Monastery. Some of the trekking tours which walk the whole valley start from this end. The best part of the valley is the first 7km part from Ihlara Village until Belisirma Village where you can see most of the churches and natural beauty.
It is very pleasant to walk through the Ihlara valley by the vineyards, poplars and pistachio trees to the soothing sound of the rushing water (Melendiz River), and surrounded by a rich wildlife of lizards, frogs, butterflies, birds and sometimes eagles and other mammals like lambs and sheep.
There many cave churches in Ihlara Valley. Most of them display scenes dissimilar to the scenes depicted in other Cappadocian churches. In fact, they are reminiscent of the early churches of Syria and the Coptic churches of Egypt. The texts in Ihlara churches are unusually long.