Kaymakli Underground City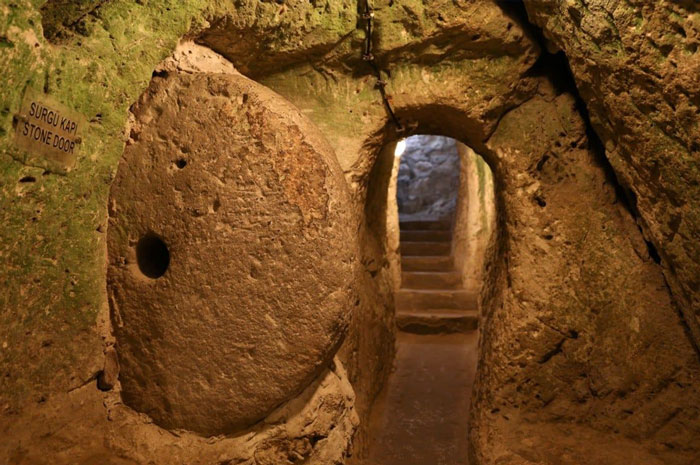 Kaymakli Underground City is built under the hill known as the Citadel of Kaymakli and was opened to visitors in 1964. The people of Kaymakli (Enegup in Greek) village have constructed their houses around nearly one hundred tunnels of the underground city. The inhabitants of the region still use the most convenient places in the tunnels as cellars, storage areas and stables, which they access through their courtyards. The Kaymakli Underground City has low, narrow and sloping passages. While the underground city consists of 8 levels below ground, only 4 of them are open to the public today, in which the spaces are organised around ventilation shafts.
Incredibly well-preserved and maintained, this is a fascinating site to visit.
The underground city at Kaymakli differs from Derinkuyu Underground City in terms of its structure and layout. The tunnels are lower, narrower, and more steeply inclined. Of the four floors open to tourists, each space is organised around ventilation shafts. This makes the design of each room or open space dependent on the availability of ventilation.
A stable is located on the first floor. The small size of the stable could indicate that other stables exist in the sections not yet opened. To the left of the stable is a passage with a millstone door. The door leads into a church. To the right of the stables are rooms, possibly living spaces.
Located on the second floor is a church with a nave and two apses. Located in front of the apses is a baptismal font, and on the sides along the walls are seating platforms. Names of people contained in graves here coincide with those located next to the church, which supports the idea that these graves belonged to religious people. The church level also contains some living spaces.
The third floor contains the most important areas of the underground compound: storage places, wine or oil presses, and kitchens. The level also contains a remarkable block of andesite with relief textures. Recently it was shown that this stone was used as a pot to melt copper. The stone was hewn from an andesite layer within the complex. In order for it to be used in metallurgy, fifty-seven holes were carved into the stone. The technique was to put copper ore into each of the holes (about 10 cm in diameter) and then to hammer the ore into place. The copper was probably mined between Aksaray and Nevsehir. This mine was also used by Asilikhoyuk, the oldest settlement within the Cappadocia Region.
The high number of storage rooms and areas for earthenware jars on the fourth floor indicates some economic stability. Kaymakli is one of the largest underground settlements in Cappadocia the region. The large area reserved for storage in such a limited area appears to indicate the need to support a large population underground.